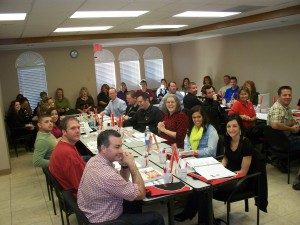 Leadership Mineral Wells encourages personal and civic leadership and development in a variety of areas--from elected office to the social services sector and business community.
Having the broad-based knowledge Leadership Mineral Wells provides has enabled past participants to better serve the community in roles such as city council, Chamber board of directors, and hospital and school boards. Currently five members of the Mineral Wells City Council are Leadership alums.
In addition, Leadership Mineral Wells is an excellent way to meet and network with other leaders with the same objective: to make a difference in the Mineral Wells area and Palo Pinto County.
Through a series of self-facilitated programs, Leadership Mineral Wells participants receive a thorough overview of local government, human needs, education, and business as it pertains to Mineral Wells and Palo Pinto County. Participants typically travel throughout the county and city during the course of a day, meeting with business owners, governmental officials, and agency executives.
Leadership Mineral Wells classes are required over the course of their year to develop and execute a class project. The project is up to the class but must be approved by the Chamber executive director.

at right: Leadership Mineral Wells Class 27
Leadership Mineral Wells requires a considerable commitment of time and energy—though the investment is well worth it, as current and past participants will attest. Participants are expected to attend all class sessions. There will be a total of eight (9) eight-hour sessions, held once a month on fourth Thursdays, from February through October, 8 a.m. to 4 p.m. The September class will be held in Austin, where participants typically spend the night.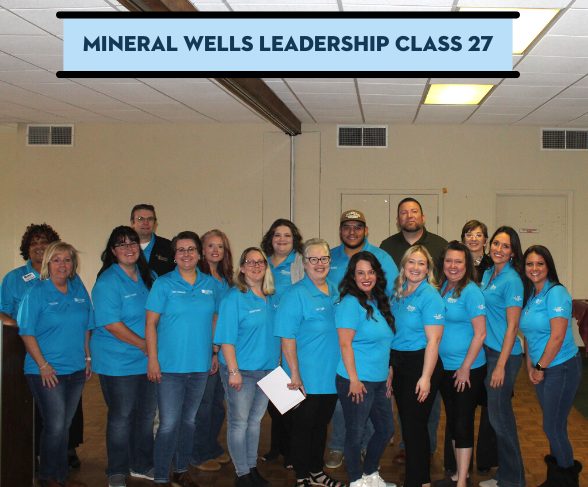 Application and Other Helpful Documents
Prospective Leadership applicants will want to know about the financial commitment involved in participating in Leadership Mineral Wells. Many businesses cover all or some of the costs for their employees.
Here is a breakdown:
Participation fee: $500 (includes materials, shirt, ropes course, and graduation)